What People Say...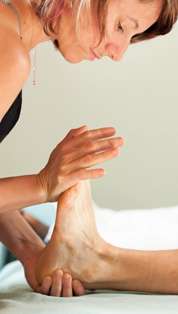 Jennifer Michels' knowledge and skill are apparent in her approach to her client's body. Combining neuro-muscular reprogramming with massage, she has assisted me in breaking obstinate, asymmetrical muscle patterns.
-Sandra Stringer, Pilates Rehabilitative Trainer
Jennifer Michels comes to bodywork with an extraordinary toolbox of skills and knowledge. I'm constantly impressed with the sensitivity, pragmatism and cheer she brings to our massage sessions. Together with her insight and ever expanding capabilities, Jennifer is one of the very few massage therapists whom I would call a true healer.
-Kristen Balderfroid
Jennifer is a great therapist. No matter how tense and tight I am when I go in, I leave feeling relaxed and calm. She has a great touch, strong or light, when I need one or the other and she listens. She is by far, the best massage therapist I have ever worked with. Whenever my family comes to visit, I make sure they get to see her too."
-S.V.
As a long-time climber and frequent computer-user, my upper back and shoulders need lots of TLC. Jenn has a keen sense of what a person needs, and she's clearly got a wide range of techniques to draw upon to provide just the care. I seriously call her my secret weapon."
-Eve Cowen, Founder of the Future Leaders Institute
For the past 8 years Jen's vast knowledge along with her intuitive process have combined in way that has brought me great relief from an arthritic condition that I have been suffering with for more than 20 years. I have and will continue to highly recommend Jen's work to anyone seeking massage therapy.
-Billy S.
If you are thinking that you might need a massage for pain, just get one. Jennifer helped me with a back strain I got from lifting something too heavy. Medications just dulled the pain but she helped me heal my back. After dealing with the pain for a week I asked for help, and Jennifer helped me tremendously.  She is a sweet person, and it is easy to let go and accept her healing touch. A couple of days after her treatment my back felt fine and I can say she has the healing touch. She is a pro. Leave it in her hands to make you feel better.
-Shawn H
As a stressed out high school teacher, I began seeing Jennifer about 4 years ago. Although a petite little thing, she has the strength and agility to get any achy spots I've acquired since previous visits.  She can immediately pinpoint the problem areas and work the pain right out with her hands, her hot towel, her hot rocks, guided stretches, etc.  I have always been incredibly satisfied with her massages and her professionalism.  She is so in touch with my body that when she asks, "oh, what's going on there?" I often have to remind myself that, yes, in fact, I've been experiencing pain in that exact spot.
-Aura G
The most talented, comforting, and gifted massage therapist around the East Bay is Jenn. Initially, her style is based on swedish and deep tissue therapies, but after assessing my individual needs, she began applying appropriate techniques from a wide range of bodywork styles into our sessions together. Her understanding of both the physical body and the emotional aspect of the soul is remarkable. I am a trained massage therapist myself and I wouldn't go anywhere else.
-Steven V.